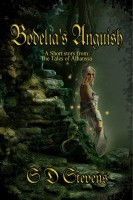 Here's a free read to kick off this month's Pagan book news – Bodelia's Anguish – a short FREE fantasy story from SD Stevens The fury of a goddess betrayed is about to be unleashed on those she once loved.
Find it on Smashwords, Barnes & Noble and Kobo
These are not reviews – book information is taken from author and publisher sites. Pagan authors writing Pagan books are welcome to contact The Pagan and The Pen for inclusion in future roundups.
New from Moon Books – Arc of the Goddess, a month by month approach to working with the wheel of the year, from Rachel Patterson and Tracey Roberts.
http://www.moon-books.net/books/arc-goddess
Labrys and Horns, an introduction to modern Minoan Paganism, by Laura Perry.  Journey to the magical land of Minoan Crete, whose gods and goddesses are still very much alive today.
http://www.lauraperryauthor.com/
The Witch's Book of Power, by Devin Hunter.  Published by Llewellyn, this book digs deeply into the roots of what makes a witch powerful.
Valkyries, selectors of heroes: their roles within Viking & Anglo Saxon mythology and beliefs. Written by Pete Jennings, this book brings together the historic sources to explore what and who the Valkyries are.
https://www.amazon.co.uk/Valkyries
Fairycraft, by Morgan Daimler. Published by Moon Books, this is an in-depth manual for practicing Fairy Witchcraft including theology, fairy lore, rituals, holidays, and magical practices.
The Avalonian Oracle, by Jhenah Telyndru. Woven from threads of Welsh mythos, British legend, and Celtic Druidism, The Avalonian Oracle is a transformational journey through the sacred landscapes of Britain and a gateway to the Holy Island of Avalon. 46 beautifully illustrated cards guide seekers through an inspired reconstruction of the path of the Celtic Priestess.